Magma - Final Piece
Here are my final products/ designs created for the Magma Brief. The aim of this brief was to attract more of a student audience to the Magma Bookstore in Manchester (www.magmabooks.com). To do this we were to create a number of products and to advertise them. I decided to go with the theme of the student always being hungover, therefore created products to help them get over their hangovers. Wall Chart - The first product I created was a Wall Chart. This would help the student audience keep track of how many hangover and study days they are having across the year. The aim is that you should only have 1 hangover/ treat day per every 2 study/ work days. This chart helps track whether you're the perfect student or on your way to failure! This is done by using the stickers provided (red and blue).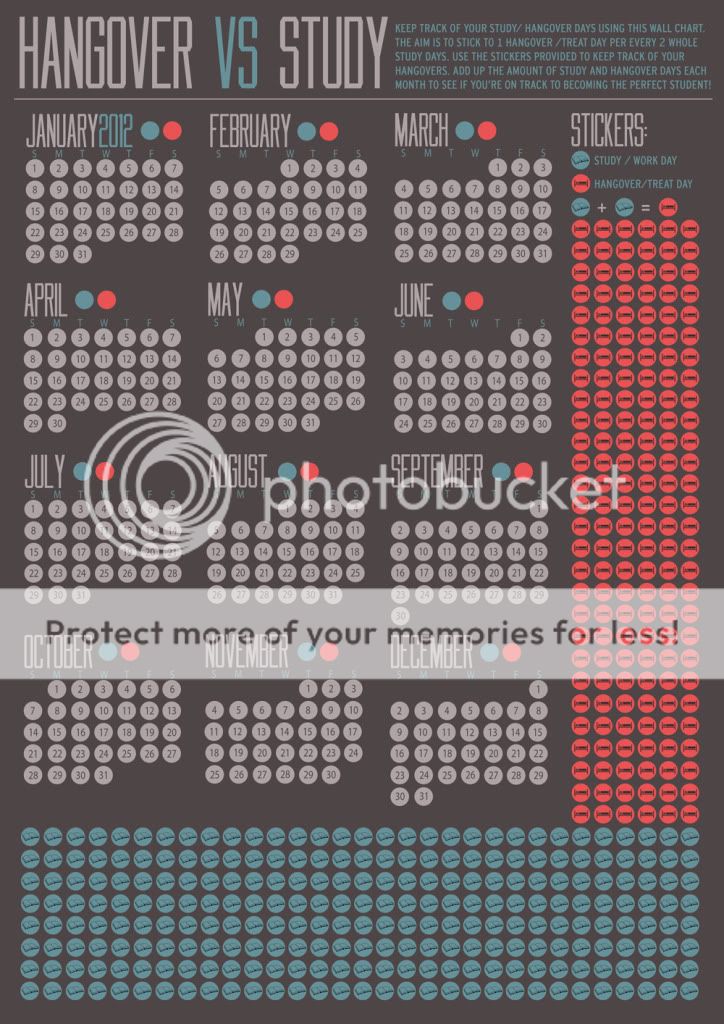 To advertise the wall chart I created a double page spread which would be displayed in a student magazine. It would be released at the beginning of January and would give the audience a free month of the chart, in hope that the student would want to carry on with it for the whole year. Details on where to buy the full wall chart are displayed on the DPS.
Calendar - My second product was a 3D calendar which would be put together by the user, with the provided nets and instructions. The net in which forms a bed where the calendar is held. The calendar also continues the theme of tracking your hangover/ study days by using stickers, but also provides the user with a weekly hangover tip (and on special occasions such as christmas etc.)
Sticker Book - If running out of stickers for the wall chart or calendar, a sticker pack would be available for the user to buy. This could imply that the user is either treating themselves too much or working too hard! These stickers could be bought for other uses also.
Tea-Towel - Humorous tea-towel for student halls/ accommodation - 'It's a scientific fact that a bacon butty can help cure a hangover'.
Mugs - To warn others of your self-inflicted hangover.